Ricardo Sandoval drops Jay Harris in eight IBF Eliminator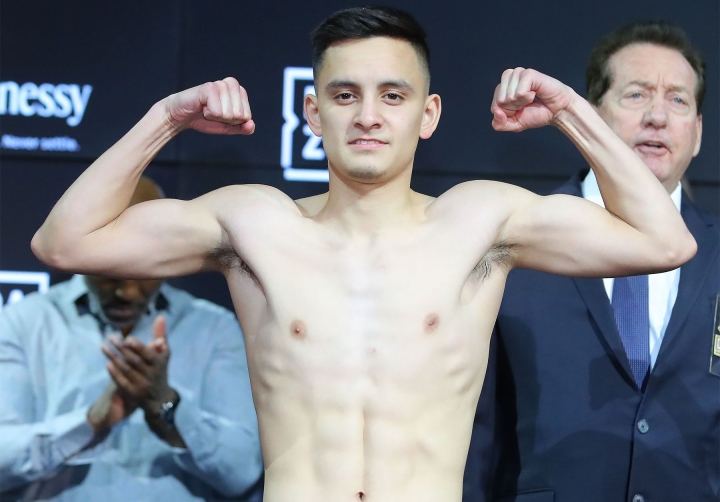 Ricardo Sandoval lined up for a shot against IBF flyweight champion Sunny Edwards as he knocked out Jay Harris in the eighth round at Bolton.
The 22-year-old Californian dropped Harris – who walked the distance with WBC champion Julio Cesar Martinez last year – twice in the eighth round, both times with body hits.
"We had a plan," Sandoval said. "We knew from the Martinez fight that bodywork hurt him, we practiced that a lot and we showed it in the ring."
Until then, he had been competitive. Sandoval started off strongest, but Harris was very successful from the third round on dragging the American into a fight.
In the sixth, things seemed to be turning firmly for the Californian as he started to land heavy shots and Harris was cut around his left eye. But he had a good start to the seventh as he appeared to stagger Sandoval with a left hook, although Sandoval put the pressure on late in the inning as Harris struggled to get off the ropes.
But Sandoval opened up in the eighth round, landing a left hook that nearly doubled Harris in half as he slumped to the canvas. He was up by eight o'clock, but Sandoval was on top of him. After missing a big left, he found himself in the perfect position to throw another left to the body, which sent Harris for the full count of referee Michael Alexander at 2:12 of the lap.
"I feel amazing, I worked so hard for the last two months, I was ready to go," said Sandoval. "I have always had confidence in myself. I know a lot of people doubted me, but I trained hard, had a lot of amateur experience and had some good sparring.
"In the future, I hope I can be one of the best fighters in the game."
Ron Lewis is a senior writer for BoxingScene. He was a boxing correspondent for The Times, where he worked from 2001 to 2019 – covering four Olympics and numerous world title fights around the world. He has written about boxing for a wide variety of publications around the world since the 1980s.