Owens sets a pair of college-best records to lead the Mt. SAC decathlon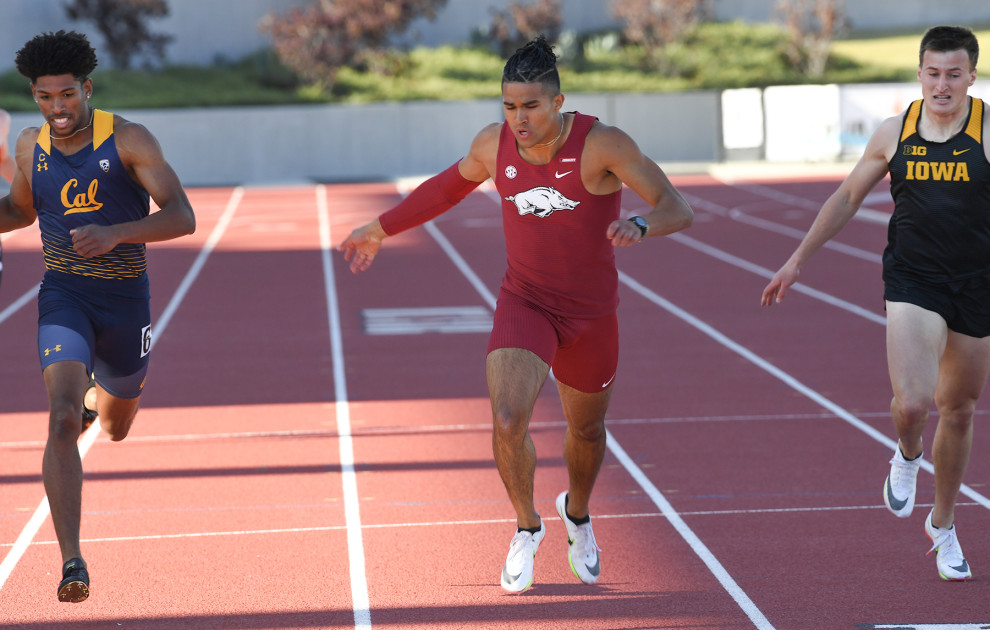 WALNUT, CA –Razorback Ayden Owens produced a pair of collegiate-best times in a decathlon on his way to producing the fifth-best Day One collegiate score of 4,483 points to lead the Mt. SAC Relays decathlon.
His teammates Daniel Spejcher (4,036) and Noah Swaby (3,595) currently sit fifth and 14th respectively.
"Ayden executed really well," Arkansas associate head coach Travis Geopfert said. "Daniel too, who built quite a bit of PR today. The name of the game is execution. Focusing on each event and then moving on to the next.
"Tomorrow is going to be one event at a time with absolute focus and execution on every event. I think these guys are ready to do it.
Just 39 points behind Owens at 4,444 is California's Hakim McMorris with Iowa's Austin West third at 4,343.
"I came here to do my job," Owens said. "I came here to conquer the 11and event, the event of dealing with my emotions, not getting too excited or too depressed after any event and focusing on the thing right in front of me.
" That's exactly what I did. I ran 10.2 in the 100m and was happy with it. I switched to the long jump and did my job there. The high jump wasn't what I expected or wanted, but I came back and ran 46.1. So that's who we are, and that's what we do.
Owens opened the decathlon with a career-best 10.27 in the 100m, scoring 1,030 points. He bettered the previous collegiate record in the event of 10.34 (+2.6) set in 2009 by the Kansas State Mantas Silkauskas.
Owens' impressive time narrowly missed the UA's all-time top 10 in the 100m, where 10.23 is the 10and best performer established by Wallace Spearmon, Sr. in 1985.
Closing the first day with the 400m, Owens ran a career-best 46.12, scoring 1,002 points, to better the previous college record in the event of 46.28 set by Oregon's Ashton Eaton in 2010.
Between those two events, Owens led the field by 14 with a long jump of 24-7.75 (7.51) for 937 points. Then he finished third in the shot put behind his pair of Arkansas teammates with an outdoor record of 48-10.25 (14.89) for 783 points.
Owens was disappointed with his high jump, where a 6-3.5 (1.92) clearance scored 731 points.
He fueled his disappointment in the 400m high jump, where every ounce of performance was needed to generate the 46.12 time lead to a 46.36 for McMorris and a 46.41 for West.
"Tomorrow we come back and fight," Owens said. "We come back to have a good time and compete, and do our best. That's all I can do. We will see what score I will put.
Spejcher set a career best 10.88 in the 100m while Swaby matched his best of 11.23. In the long jump, Spejcher collected another career best jumping 23-3.75 (7.09), then produced an outdoor record 49-7.75 (15.13) to lead a Razorback 1 -2-3 in the shot put with Swaby runner-up. with a throw of 49-1 (14.96).
After a 6-2.25 (1.89) in the high jump, Spejcher closed day one with a 400m PR of 49.52 while Swaby posted a 51.17.
"I'm just around my first day in PR," Spejcher noted. "I always have that consistency, especially in April. I'm excited for tomorrow's hurdles, it starts it all. It's all about consistency at this stage. I know I don't have to go crazy to make a good score. I just want to be consistent all day tomorrow.
Running at Azusa Pacific in the Bryan Clay Invitational, Carter Persyn finished sixth in her section with an 8:55.86 to place 14and overall and just missed his career best of 8:55.81.
Top 5 Best Decathlon Day One Scores of All Time
Score Final Athlete Score
| | | |
| --- | --- | --- |
| 4516 | Lindon Victor (Texas A&M) | 8472 |
| 4500 | Ashton Eaton (Oregon) | 8457 |
| 4496 | Tim Duckworth (Kentucky) | 8336 |
| 4494 | Ashton Eaton (Oregon) | 8310 |
| 4483 | Ayden Owens (Arkansas) | |